Golf Cart Repairs and Maintenance in Kendall
If your golf cart breaks down or simply needs some routine maintenance, Golf Cart Miami should be the first place you call. Our trained technicians and state-of-the-art repair equipment can handle all major golf cart brands, whether they run by gas or electric. We also stock replacement parts to ensure repairs are carried out as quickly as possible. Call now to schedule a drop-off or pick up!
Annual Service and Urgent Repairs
To ensure your golf cart doesn't let you down when you need it, your best bet lies in taking care of the little problems before they get out of hand. Send your cart to Golf Cart Miami for a yearly check-up; we're experts in every area of golf cart maintenance and repairs, including batteries, solenoid failures, faulty wiring, and everything in between.
With all their moving parts, there are plenty of common mishaps that can go wrong with your vehicle. Luckily, finding the right place for repairs is as simple as calling us at the number below. We can pick up your cart, fix up any issues, and deliver it back to you within a few days.
No matter the issue, we have the fix
Learn more about our golf cart selection and services at 305-358-9275
DADE EQUIPMENT MAINTENANCE CORP. is committed to ensuring that the collection and processing of data carried out by our
golfcartskendall.com
site complies with the General Data Protection Regulations (GDPR) and the Data Protection Act. To know and exercise your rights, particularly concerning the withdrawal of consent to the use of collected data, please consult our
privacy policy
Golf Cart Rental - Leasing
Golf Cart Repairs and Maintenance
Custom Golf Carts
Golf Cart Parts
Golf Cart Sales
Sales, Service, Customization
Professional Customer Service
Committed to Quality
100% Satisfaction Guaranteed
Maintenance Tips Between Visits
We don't expect you to be golf cart maintenance experts (that's what we're here for), but there are a few things you can do to make sure your golf cart remains in tip-top shape between your annual services with Golf Cart Miami.
Check the Water Level At Least Once a Month: Water levels should be no lower than ¼ inch above the lead plates and should never be above the bottom of the vent tube. A good rule of thumb is to maintain a 1/8 air gap between the top of the water level and the bottom of the vent tube.
Keep Batteries Clean: A good way to clean your batteries is to spray them with a mix of 1/4 cup baking soda and 1.5 gallons of water. Leave it to sit for about 5 min. and rinse. Take care to not wet electrical components to prevent short circuits.
Keep an eye on tire pressure: Standard tires should be inflated to 22 psi, although certain aftermarket tires have different psi ratings. Make sure to check the side before inflating.
These little tips will help you get the most use out of your golf cart. Of course, if you ever have any concerns, our experts will be more than happy to solve them for you. Call now!
Get the most out of your carts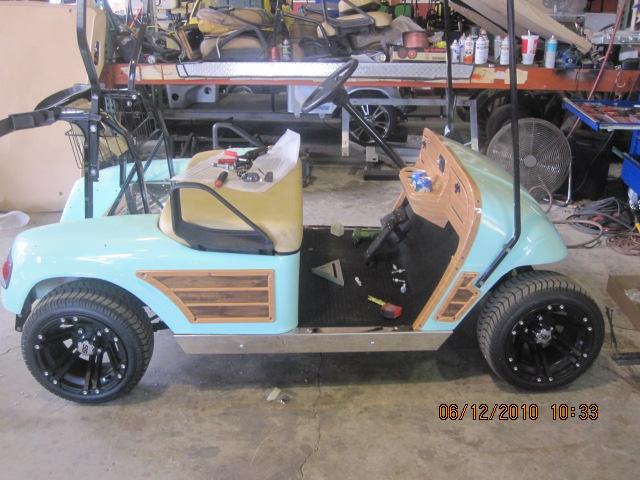 Repairs you can count on
Our team can help you select the perfect vehicle for your needs, as well as answer any other queries you may have. Contact us today!
DADE EQUIPMENT MAINTENANCE CORP. is committed to ensuring that the collection and processing of data carried out by our
golfcartskendall.com
site complies with the General Data Protection Regulations (GDPR) and the Data Protection Act. To know and exercise your rights, particularly concerning the withdrawal of consent to the use of collected data, please consult our
privacy policy